Kansas City Aerial Photographer
I love to fly in a Cessna & have that window open & the fresh breeze filling the cabin while I sight out what it is I'm there to photograph. I enjoy a good aerial job & they always offer some opportunities for some extra shots for display.  I thought I'd post a few of my aerials to show what fun the 2000′ vantage point can be. My mind is in a constant split screen as I think of what the same view I see from the air, would look like on the ground.  For me, this is multitasking…  Glad I'm not the pilot.
I try & shoot anything I can when I am up there… I make my clients happy first & then it's a free for all. I'm on the lookout for anything interesting. Old drive in movie areas… a power plant in the middle of Kansas… other aircraft… a Kansas Dust Devil- made from the smoke of a controlled burn… I love it up here.
The pilot- & by the way- The pilot I fly with is retired Air Force… knows the FAA rules better then they do & is just great to fly with. – and he can't always just, "fly over there & spin in a circle for me." There are rules with airspace & where we are at a given time & where we said we'd be… And I couldn't do the job without him.
Kansas City Aerial Photography is more than just getting in the plane & off you go. A good Kansas City Aerial Photographer studies up on the location prior to the flight so that we don't spend any extra time looking for the target. Then you have to be ready to compose, shoot & check your metering, all at a nice 45-80 degree angle & on a constant move.
I shoot for land owners, construction companies, the US Army Corps Of Engineers, Military installations, Realtors… I'll photograph you waving from your front lawn if you like.
Here- it's easier to just look & see for yourself.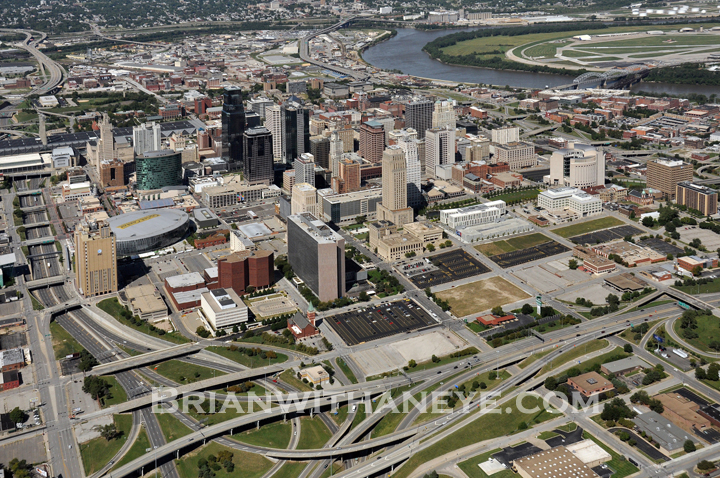 Enjoy the view & pass me along, won't you?  Images taken with a Nikon D90 & 70-200mm VRII lens for the bulk of the work & a Nikon 18-200mm VR for the wide shots… such as our lovely city here on the left.