Kansas City Construction Photography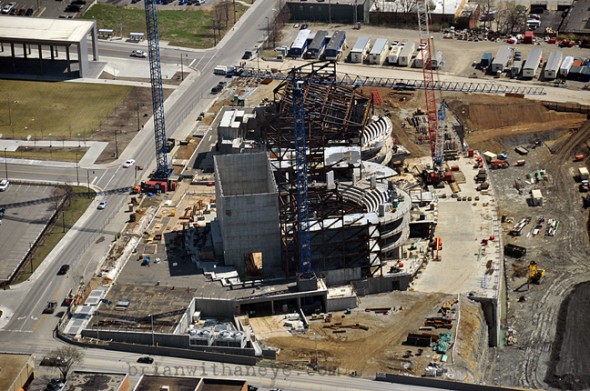 This is my new favorite structure in Kansas City. The new Kauffman Center For The Performing Arts.
This, to me, is what it must have been like when they built Union Station in the early 1900's. The excitement of something grand & new that the city will enjoy for years to come. Union Station opened in 1911…and this performing arts center will open in 2011.
As a Kansas City Photographer, I am very interested in the history of nearly everything. This new facility is no different. This is a piece of Kansas City history & I like to document it as often as I can, whenever I am in that part of town. I only wish I could get some interior shots.
Since I document construction work at times, I was drawn to this like a moth to the flame. JE Dunn is building this little gem & they do, in my opinion, just amazing work.
The images start in April of 2009 & end up with a nice little night shot just last week on July 23rd, 2010.
There is this rather large fence that keeps me from getting the actual angle I want but as any good Kansas City photographer would do-
I Make the best of what is presented to me.
Please enjoy the images & the angles I chose to tell the story.
Bright blue days that led to some beautiful contrast with rusted steel & blue sky. Black & white images to give a timeless feel to them.
Steel, cranes, colorful rust & a rocket ready for take off…
There is plenty to shoot in this town…
And this Kansas City photographer loves getting out to shoot it.
The shots from the air give a great perspective. I love when I get to wear my Kansas City aerial photographer hat.
Enjoy these & I'll see you in the balcony.
Taken with a Nikon D90 / 18-200 VR & 70-200 VRII lenses.
Diggin' the Nikon…