Views From Camera7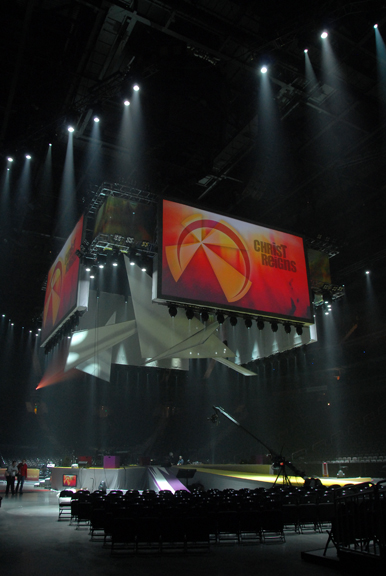 I had the privilege of working with Creative Technology, out of San Francisco- on the NCYC 2009 gathering at the Sprint Center this past week. It was a great show & a wonderful crew to work with.
These are some images from my position(s)- Hand-Held Camera 7, to be specific. We had 8 cameras in our arena- 4 hards..2 hand-held & 2 jibs- plus 2 more cameras over in the Grand Ballroom at Bartle Hall for about 3,000 kids that couldn't pack into the Sprint Center. It was a full house.
Some great music & dance included with Mass for 22,000.
Enjoy these photographs that I shot- while between live camera shots during the show.
The next to the last photo is fellow camera-guy #8, Bob Brunk, working a shot on a young singer at the conference. The final shot is a view from the arena out at the silhouetted "fins" of the future Kauffman Performing Arts Center.
While it would have been a blast to cover this event in still captures, I am happy with what I could grab at any given time. Also very happy to have had the live camera work. I love it. A very visual week.
…Who says I can't multi-task??  Anyone??